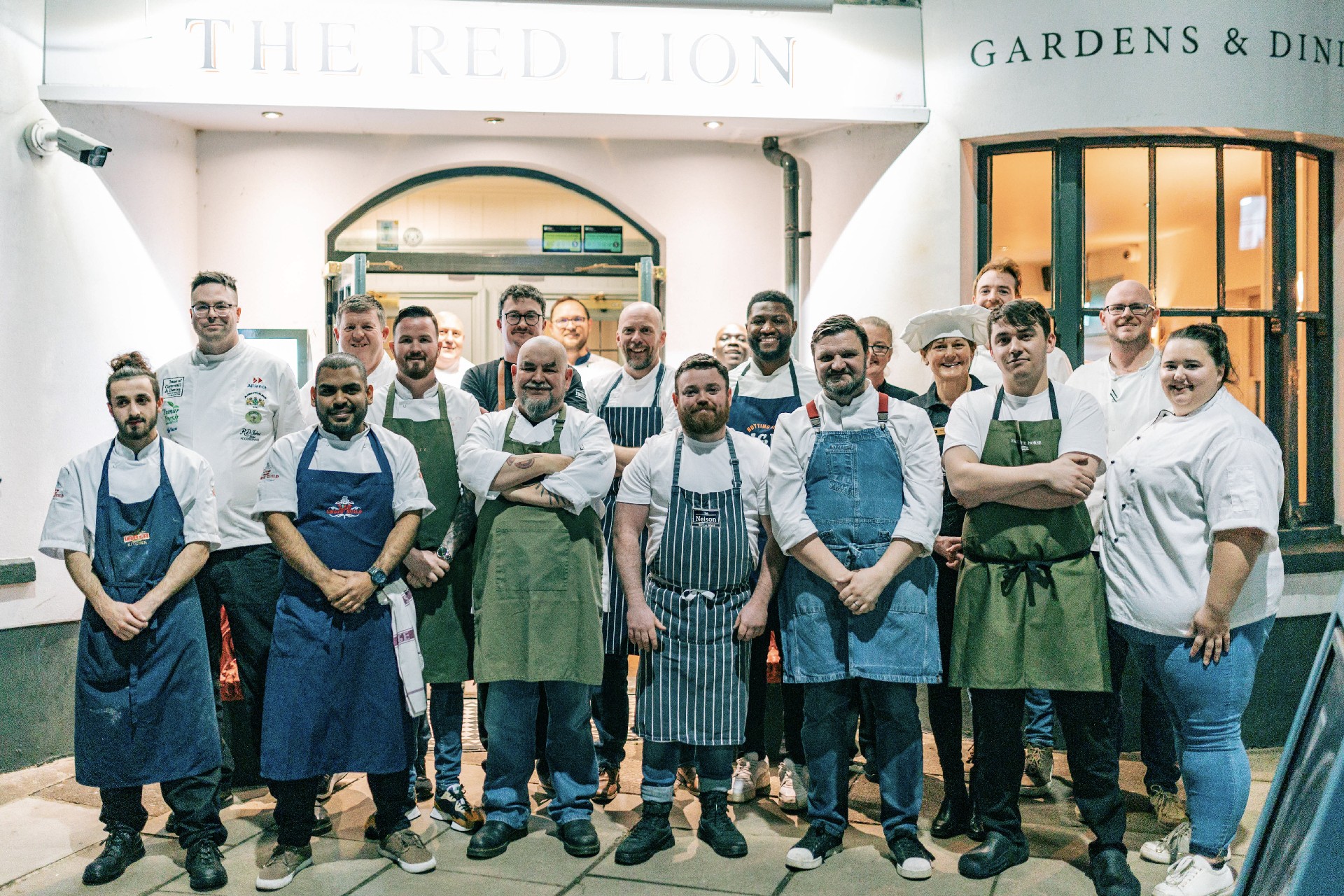 The Great Sausage Roll Off
The Great Sausage Roll Off 2023
​
This year's winners and prizes:
First place – the coveted Golden Sausage Roll trophy and IOShen bespoke knives:
Mat Follas from Bramble Restaurant in Sherborne, Dorset
Second place – prize supplied by Netherton Foundry and other judges' prizes:
Dav Browing of The Ocean View at the Dome, Plymouth
Third place – boxed F Dick Knife provided by Rational UK:
Sue Mcgrath of The Vine in Buckden, Cambridgeshire.

The Great Sausage Roll Off 9, after a three-year hiatus, was back with a bang(er)! Back with a fresh set of faces and a light sprinkling of past competitors eager to win the holy grail of savoury pastry awards – the Golden Sausage Roll itself.
On a cold, dark night in February, 16 professional cooks from all over the country gathered in our South West London pub kitchen armed with their hand-crafted dough, thoughtfully prepared fillings and a burning desire to be the best. Their palms were sweaty, knees weak, arms were heavy, some were nervous, but on the surface, they looked calm and ready. Eventually everyone lost themselves to the task in hand – to create a dozen perfect sausage rolls, and that they certainly did!
What a show, what a performance, a shining example of what our fantastic industry can achieve – so much passion, comradery, and respect for each other and their experiences, past, present and ongoing. Hospitality stood up, put all fingers on both hands up and declared – "we are in this together!".
And then the fabulous judges, all committed professionals, at the top of their game, all experts in ubiquitous bar snacks, ready to strike fear into the hearts of the contenders. With 16 tasty morsels to appraise, the task ahead was no mean feat but after nearly two hours the decision was made, and the supreme champion was crowned!
On the night, we raised £2,000 for Hospitality Action through an auction and sausage roll sales.
Watch the video below to see all the action from 2023
We can't wait to do it all again next year!
This year's competitors were – in no particular order:
Sam Seedhouse - The Bird in Hand, Knowl Hill @butcombebrewery
Eden Allsworth - The Ferry House, Sheerness @Edenallsworth
Josh Robbins - The White Horse Pub (Elite Bistros) @TheWhiteHorsePu
David Steel - Houston & Hawkes @doughnut68
Diego Uribe - The Holly Bush, Hampstead @thehollybushpub
Sarah Heward - The Real Food Cafe, Tyndrum @therealfoodcafe
Dav Browning - Ocean View at the Dome , Plymouth , @dav_browning
Elisha Ovia - Eli & Pie Nine Elms, @eliandpie
Adam Lestrelle - The Fat Badger, Richmond @cheflestrelle
Dan Coles - The Lord Nelson, Burton Joyce @danthecoles
Barry Horne - Provenance Village Butcher @bazhchef
Tom Lilley - The Antelope Inn, Lighthorne
Lee Cooper - The Bedford lodge Hotel, Newmarket @ch3flee
Sue McGrath - The Vine Buckden
Mathew Follas - Bramble Restaurant Sherborne @matkiwi
Edward Kilty - Kilty&Co @Piggierolls
Our fantastic judging panel:
Chef Daniel Clifford
Chef Pip Lacey
Chef Simon Rimmer
UKH CEO Kate Nicholls OBE
Broadcaster James O' Brien
As always, our favourite beer and food writer Melissa Cole was our expert compere for the night.
And finally, a massive shout out to our wonderful sponsors without whom the night would not take place:
IO Shen Knives
Netherton Foundry
Rational UK
Fuller's
Asahi UK
Doghouse Distillery
Sipsmith Distillery
Barratt Boards
Gabriela Austin
The Great Sausage Roll Off 2024
To enter next year's Roll Off, fill out the form below
Check out previous Roll Offs!